securityProbe5E-X20
Das einzige Überwachungssystem, das Sie brauchen…
Überwachen Sie die physische Umgebung und erhalten Sie Warnnachrichten bei etwaigen Störvorfällen, wie zum Beispiel unbefugten Eindringlingen, Sicherheitslücken, hohen Temperaturen, Rauch, Wassereinbrüchen, Stromausfällen und weiteren Vorkommnissen.
Die SEC5E-X20 ist mit der AKCP-Produktpalette Intelligenter Sensoren kompatibel und ist eine umfassende Umgebungsüberwachungslösung. Sie ist eine umfassende Zugangskontroll- und Sicherheitslösung für bis zu 500 angeschlossene Sensoren.
Die securityProbe 5E-X20 verfügt über 20x 2-drahtige potentialfreie Kontakte. Zusätzlich kann eine 2-Gigabyte-SD-Karte (Secure Digital Memory Card) installiert werden, um die Speicherkapazität zu erhöhen.
Die SEC5E-X20 verfügt über eine High-Speed USB 2.0-Verbindung und über Ports für den Anschluss eines 1x EDGE-180M-USB-Modems.
Netzwerk Monitoring
Die securityProbe 5E-X20 ist TCP/IP-konform und betreibt einen LightTPD-Web-Server inclusive HTTPS (SSL), Bash, Perl, Telnet, PHP, E-Mail und Nagios.
Die SEC5E-X20 besitzt eine einfach zu verwendende, Web-basierte Benutzerschnittstelle für die Sensorkonfiguration, die Datenerfassung und die Erstellung anschaulicher Diagramme.
Die SEC5E-X20 unterstützt SNMP-v3 bei voller Verschlüsselung.
Die securityProbe 5E-X20 unterstützt auch Modbus-Master/Slave, Modbus RTU und Modbus über TCP/IP und schafft so einen einzigen, leicht zu konfigurierenden Modbus-zu-SNMP-Gateway.
Die Web-basierte Schnittstelle ist in PHP erstellt und erlaubt es Endanwendern Änderungen, wie zum Beispiel Sprachübersetzungen, vorzunehmen. Die SEC5E-X20 verfügt über eine batteriebetriebene Uhr für eine präzise Datenprotokollierung.
Aufbau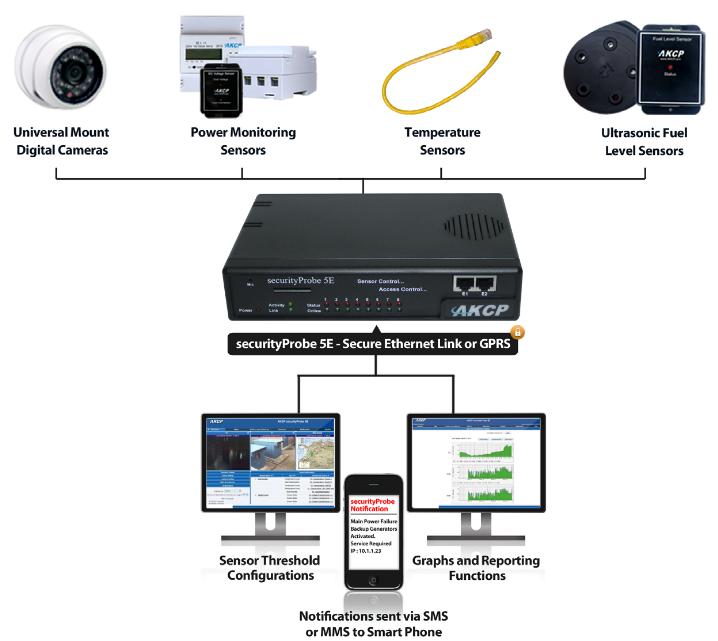 Architektur
Up to 8 of AKCess Pro's Intelligent Sensors can be connected to the securityProbe 5ESVA-X20. When plugged in, sensors automatically configure themselves and go 'online'. Using the either the E-sensor8, or the E-opto16 expansion modules, up to 500 sensors can be connected to a single unit. Our easy-to-use port numbering system allows you to setup the securityProbe 5ESVA-X20 within minutes.
AKCP iMX25 CPU
128 MB of SDRAM
128 MB NAND Flash
10/100 Mbps Ethernet Port
1x USB 2.0 Modem Port
4x BNC Video Ports
20x Dry Contact Inputs

RS485 Ports
Internal Audio Speaker
Internal Microphone
8 Full AutoSense RJ-45 Ports (Maximum of 500 Sensors)
4x RJ-45 Expansion Ports