The Wzzard™ Intelligent Sensing Platform
B+B Smartworx developed the Wzzard Intelligent Sensing Platform to facilitate the coming world of connected intelligence, where machines and systems will collaborate, inform and make decisions based upon sensors data. These smart networks will have the ability to run efficiently and autonomously, sometimes for years, with little human intervention other than needed maintenance. B+B SmartWorx Wzzard anticipates this coming connected world.
Wzzard is an easy to use, complete wireless sensor connectivity platform for the rapid deployment of scalable, intelligent, reliable IoT networking in remote and demanding environments. Wzzard was designed to help integrators, VARs and service providers efficiently develop and deploy secure, smart, self-powered, and scalable IoT applications.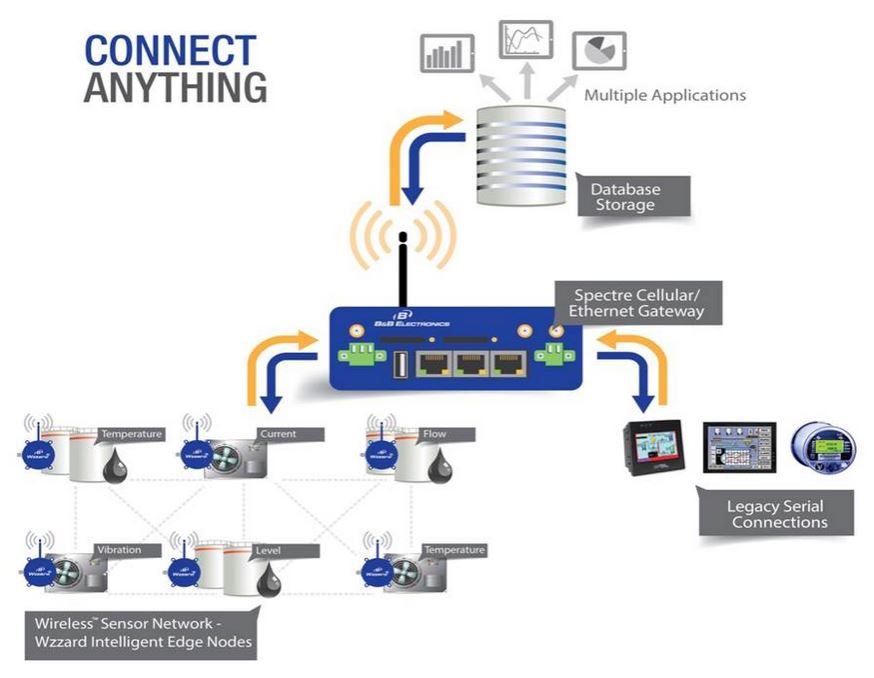 Robust Wireless Mesh Communication
B+B chose SmartMesh IP® wireless sensing technology from Linear Technologies Dust Networks. SmartMesh IP is based upon the wireless IEEE 802.15.4e standard and creates full-mesh networks, sometimes referred to as "mesh-to-the-edge" networks. SmartMesh IP networks use a triple-play of wireless mesh technologies—time diversity, frequency diversity, and physical diversity—to assure reliability, resiliency, scalability, power source flexibility, and ease-of-use. Wzzard's nodes attach automatically, and the SmartMesh IP technology dynamically self-configures to re-form the mesh network. To ensure data always reaches the gateway, nodes will determine their optimal RF paths to other nodes and back to the gateway providing up to five 9's 99.999% data transmission reliability.